Introducing the Complete West HP team
Meet the fitness experts that are here to help you achieve your goals
Fill out the form below to get started
Take the first step towards getting the results that you want
START NOW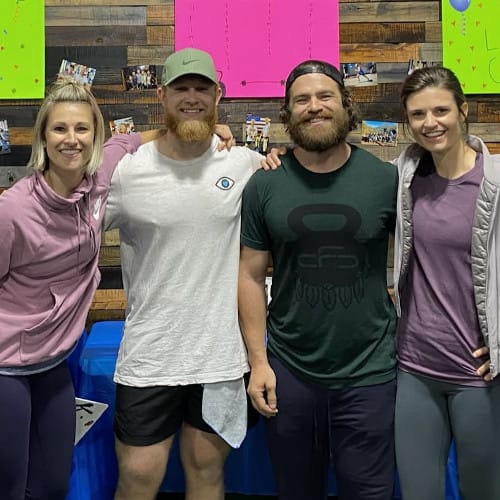 Our founders
Savannah Long , Lillie West-Long, Michael Croy, Zac Zuspann
Complete West Health and Performance was created by the passion and desire of four friends who wanted to expand the Complete Community. They did so by opening up a second location in West Oklahoma City. ​ Before opening CFCW doors in August 2014, Zac Zuspann, Whitney Zuspann, Lillie West-Long and Savannah Long created the manifesto: a single sheet of paper that defined what Complete West Health and Performance was about, what we believed in and what our goals were. This is what we wrote…. ​ The word COMPLETE symbolizes a person who works to become well balanced in all areas of their life. The mission is to continue building a community of people helping them to grow stronger; Mentally, Physically, and Spiritually. Whether it be a class workout or a community event we strive to create an environment where members feel comfortable and excited to show up, knowing we have the ability to be the best hour of their day! WHY CHOOSE US? // You can go anywhere to find a gym. But what makes the CrossFit Complete gyms so different? – CONSISTENCY – PURPOSE – SERVICE – HUNGER – ​ When you become a member at Complete, you will find that you are becoming part of a group who is passionate about becoming the best version of you. A COMPLETE version. Our community motivates and inspires. We truly believe in the power of the group; in being part of a like-minded community that supports us, shares our experiences, and celebrates our successes. Fitness is better with friends. We give people the tools they need to positively change their lives, live with purpose, and inspire others to follow in their footsteps. Our coaches are all highly trained and certified professionals with a life-long dedication to health, fitness and serving their community. We are experienced at managing groups, as well as working with individuals in a one-on-one setting, we will teach, motivate and inspire you to get (and stay) in shape.
Owner / General Manager
Michael Croy was introduced to CrossFit by a baseball coach in 2014, and quickly fell in love with the sport. Michael grew up competing in athletics. Being introduced to baseball early on, he found something he was good at and put all his effort into being the best he could be. After being named All-District and All-state honorable mention, Michael was given the opportunity to further his baseball career at Oklahoma Wesleyan University in the fall of 2016. After a year of college baseball, Michael realized his new found love was in CrossFit and decided to move back home and put all his effort and attention into the sport. He was drawn to CrossFit because of the competitive nature and the intensity of the workouts. He is passionate about helping people become the best versions of themselves, and strives to make everyone feel welcome at the gym. Michael is currently a student at UCO working towards a business degree. – CrossFit Level 1- Trainer – CrossFit Level 2- Trainer – CrossFit Weightlifting Certified
Owner
Savannah grew up in Midwest City, Oklahoma. She was an All-American shortstop and 2008 Big 12 Defensive Player of the Year for OU where she received her bachelors in sociology. Savannah furthered her career as a softball player when she got Drafted in the National Professional Fast pitch Softball League for the Philadelphia Force. Savannah grew up playing competitive sports her entire life, including softball, basketball, golf, pole vaulting, track, and volleyball. She is no stranger to making adjustments when transitioning from sport to sport. She utilizes her past experiences as a coach today. She speaks softly but carries a HUGE stick. Savannah possesses a focused and intense demeanor, but she is nothing but kind and caring for those around her. You will find her putting in all of her extra time to help and encourage people reach their goals of having a happier and healthier life through CrossFit training. ​ Owner CrossFit Level 1 – Trainer CrossFit Level 2 – Trainer CrossFit Weightlifting Certified Complete Body Boot Camp Commander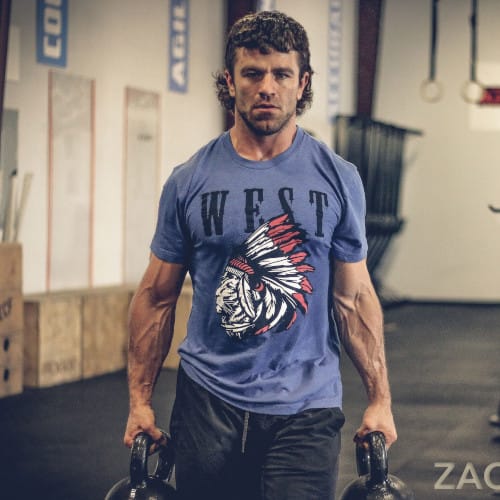 Owner and Head Programmer
Zac is married to Whitney Zuspann and has three children – Hazel, Sam and ZJ . He is originally from Lawton, OK and played football at Southern Nazarene University. He has found his passion in helping people of all walks of life in the form of CrossFit. He cannot picture doing anything else with his life and hopes that his knowledge, dedication, and passion shows in the satisfaction of those who are part of the CrossFit Complete community. His promise is to create a place where people feel comfortable, work hard, and love to hang out. ​ Precision Nutrition Level 1 NASM Nutrition Certified Coach CrossFit Level 3 Certified/CCFT Bachelor of Science in Biology and Business Administration ISSA & NASM Certified Personal Trainer USAW Sports Performance Level 2 Advanced Sport Performance Coach CrossFit Olympic Lifting LEVEL 1 and LEVEL 2 Certified CrossFit Movement and Mobility Certified CrossFit Rowing Certified CrossFit Gymnastics Certified Westside Barbell Powerlifting Certified CrossFit Football Certified CrossFit Endurance Certified CrossFit Competitor Certified CrossFit Aerobic Capacity Certified CrossFit Flexibility Certified OPEX Athlete Camp StrongFirst Kettlebell Certified Juggernaut Performance Summit MisFit Athletics Training Camp 8 Time Regional/Semifinal Coach NSCA Tactical Strength and Conditioning Facilitator Pain Free Performance Specialist – from Dr. John Rusin
Owner
Lillie started doing CrossFit in 2012 and was instantly drawn to the competitiveness and challenge that each movement and workout presents. Before discovering the sport of CrossFit, Lillie was a standout athlete in her hometown playing softball, basketball and golf. Throughout her career she received many accolades including a write up in "Sports Illustrated". Lillie's passion for sports led her to Southern Nazarene University where she continued her success as an All American Golfer and standout Basketball player. She loves coaching and has taught golf for the past 10 years through personal clinics and had the opportunities to coach Junior USA basketball teams overseas. Lillie uses that experience to help instruct others on their way to a fitter, healthier life. Her love for CrossFit and people radiates through her engaging personality and smile. She loves the community that CrossFit builds and is a strong believer that CrossFit is for ANYONE. ​ Lillie is originally from Davenport, Oklahoma where she is one of 8 children. She received a bachelors in Physical Education at Southern Nazarene University. She now lives in Midwest City. ​ Owner Crossfit Level 1 – Trainer Crossfit Level 2 – Trainer Regionals Team Athlete 2014 Complete Body Boot Camp Commander
When her sports career came to an end, Sarah knew she needed to find another competitive, athletic outlet. In the summer of 2015, she fell in love with CrossFit. Sarah was drawn not only to the physical and mental battles that CrossFit presents, but also the family-like community that comes along with it. Growing up in Muldrow, OK, Sarah competed in both basketball and softball, earning all-state honors in both sports in high-school. She continued her basketball career at Mid-America Christian University and Arkansas Tech University, having the opportunity to play for two regional championship and Elite 8 teams. She then went on to continue her education receiving a Master's of Education from The University of Oklahoma. Currently, Sarah serves as a girls basketball coach at Deer Creek High School and the Production Coordinator for Chase Buck Realty. She is passionate about equipping and encouraging others to succeed and helping every person that walks in the door reach his or her highest goals. This is second only to her love for chips and salsa. •CrossFit Level 1- Trainer •CrossFit Spot the Flaw •Master of Education in Intercollegiate Athletic Administration •Precision Nutrition Level 1
Kristen was born and raised in Mustang, Oklahoma. She was a member of the Lady Broncos Varsity Softball team and started from her freshman year through senior year. Kristen then went on to further her softball career at Southwestern Oklahoma State University in Weatherford, Oklahoma. After graduating college she began her teaching career in a low-income school in downtown Oklahoma City, where she taught second, third and fourth grade. During this time Kristen also coached softball at Jefferson Middle School and Southeast High School. She eventually returned back to college in 2009 graduating with her Masters Degree in Reading in 2012. Kristen currently is a Title 1 Reading Specialist in the Putnam City School District and Assistant softball coach at Putnam City West High School. Kristen grew up with a blue collar mindset of being independent and working hard for everything she has. That never give up attitude has helped her to raise 3 incredible boys, juggle multiple full time jobs all the while being a great wife and mom. You wont find her making excuses to not be at the gym. Every day Kristen shows up whether she's working out or coaching she gives 100% effort and attention to whatever she's doing. She loves building relationships and learning more about each one of the members at the gym. Kristen's attitude and passion towards helping others inside the gym and outside the gym is one of the many reasons why members & students love her classes. • Burn Instructor • CrossFit Spot the Flaw • Complete Body Boot Camp Commander
Jordan was birthed into this world on March 17 1984. He came out head first and landed in his first handstand hold for 14 seconds before he cut his own umbilical cord and did a fireman carry to help his mother to the car where he drove home. CrossFit was introduced to Jordan in 2013 and it was love at first rep. While attending Oklahoma Bible Academy, Jordan was an All Star and All District team wide receiver in football, led his golf team to state twice as team captain, and was a standout competitor in soccer, baseball and basketball. He went to college at Oklahoma State as a student but remained active by competing in 27 different intramural sports his first year winning 6 championships in sand volleyball, water polo, flag football, indoor volleyball, walleyball and kickball. He was also the leader of Team Henricks which was group of dedicated gym rats who he put through crossfit-like workouts and team building. He was drawn to CrossFit because of the team mentality that comes from completing workouts with people with the same goals and passion. He got his level 1 cert in 2014 along with his competitors cert at the Rogue Headquarters in Ohio. His passion is to increase his endurance and help others achieve their full potential. • CrossFit Level 1 – Trainer • CrossFit Level 2 – Trainer • CrossFit Competitors Course • CrossFit Spot the Flaw
When Abigail finished college volleyball, she was looking for a new athletic challenge. Her friend had just gotten his L1 and was coaching at a Crossfit gym in Shawnee, OK. He kept asking her to come try one of his 5am classes. She finally did and she loved it enough to keep coming back. Crossfit gyms have served as spaces where Abigail not only grew as an athlete, but also where she fell in love with her husband and got engaged, made life-long friends, and received the opportunity to continue her coaching journey after coaching volleyball at the high school, club, and collegiate level for 7 years.
"Crossfit has been a tool that has helped me through some of the best and worst parts of my life. It helps me cope. It makes me feel better. It makes me stronger and healthier. It brings me amazing community and friendships. I am honored to play a small part in offering to others the same things Crossfit has taught and given me."
If Abigail isn't helping people in the gym, she's helping students, neighbors, couples, and families across Oklahoma as a non-profit coordinator and graduate marriage and family therapist. She loves people and has a passion for equipping and empowering people to live their best lives, both inside and outside of the gym!
Start here
Book a free intro today so we can learn all about you, your goals and how we can help you reach them
Fill out the form below to get started
Take the first step towards getting the results that you want
Free Intro